THE WAV Effect.
The patented WAV technology is unlike any other process within the
Additive Manufacturing industry today.
The advantages are not just disruptive, they are...
Monumental.
Larger Parts.

Small Footprint.
WAV is capable of producing parts much larger than traditional AM systems sold today. Having said that, WAV requires a smaller footprint (per cubic inch volume) than any known Laser, Jetting or DLP based process. It can even fit through a standard doorway.
With projected speeds* of 4x, 8x, 24x+ of the fastest large vat; (Laser, DLP or Jetted based Photopolymerization) systems. WAV has exponentially upgradeable speeds with modular hardware expansions, all while yielding a lower cost of operation.
*based on internal testing
With a higher level of access to third party resins. WAV's unique design will be the perfect resin deployment platform for exotic and hybrid materials. Production grade and filled resins will be re-imagined to be used within this technology.
Material Partners TBA.
Conquering the
Limitations

of Existing Systems.
No large vats to maintain, swap materials within minutes and unlike jetting based processes (which have a tremendous amount of waste during material swaps and purging sequences), WAV has no waste, or loss of resin during the change-over. Designed for true manufacturing, WAV is pushing the resin devlopment to meet the needs of the Additive Manufacturing applications.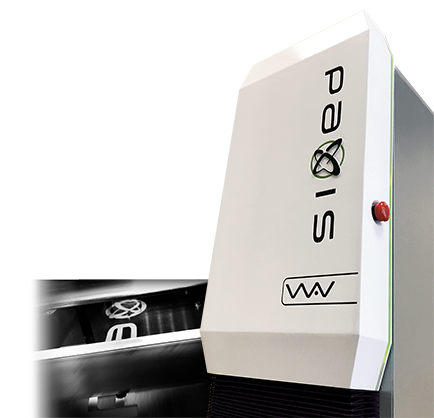 One
Huge

Tool, in the Toolbox.
The WAV process approaches Additive Manufacturing on many fronts: Prototypes (extremely large and small), Investment Casting, Resin Development, short run Bridge Tooling and large scale Manufacturing. The Paxis WAV technology won't limit your Imagination and it shouldn't.
Making Progress… a common phrase used by WAV's inventor, Fred Knecht. It all began in an effort to solve a well-known issue associated with extremely large, trapped volume parts within vat based processes. Fred described his theory on how to fix the issue to Mike Littrell, president of CIDEAS Inc., and "it was like getting hit with a ton of bricks… Fred didn't just solve trapped volumes, he solved other issues plaguing the vat and jetted based processes for years."  At this very intersection in time, WAV was born.
Let us all celebrate the creation of an entirely new process within Additive Manufacturing and embrace the changes and challenges ahead of us.
3D Printing and Manufacturing will take a huge step forward with this newly developed technology, it's not the complete answer to all of the challenges facing Additive Manufacturing, but it certainly answers the ones that have been ignored or impossible to achieve with current technologies.
WAV. The platform that motivates the End Users to re-invent and re-imagine everything within AM.